This agreement remains unsigned by NTEU Chapter 280 because management and the Chapter do not agree on a key telework interpretation. The document is used, however, as the applicable agreement despite being unsigned.
A series of fillable PDF forms that include the HQ Work Schedule Request Form, the HQ MaxiFlex Pay Period Time Sheet, and the HQ MaxiFlex Pilot Work Schedule Agreement.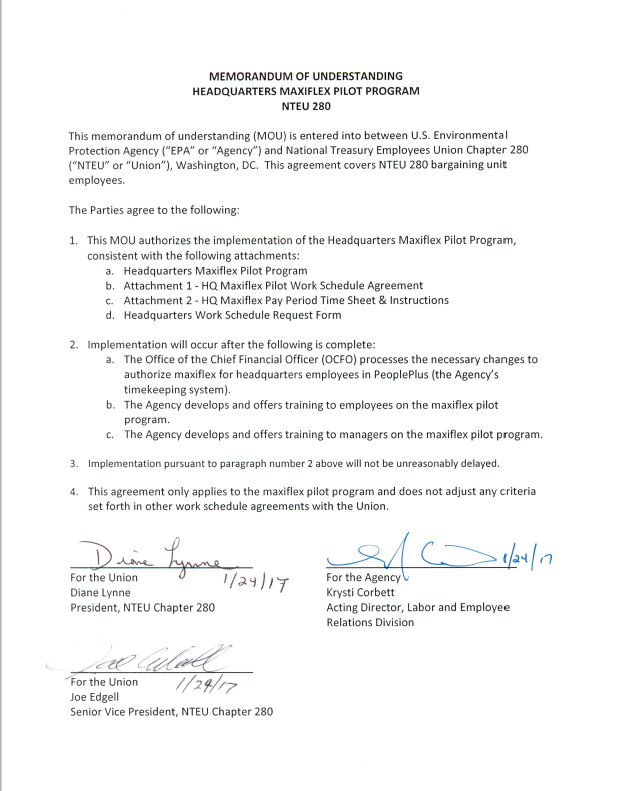 This memorandum outlines a pilot program for the Headquarters Maxiflex work schedule, which is available to any EPA employee within the Washington, DC commuting area during WMATA SafeTrack Rehabilitation Program
This agreement is used for management-mandated office moves within headquarters. This type of move is different from voluntary moves, which are governed by the office backfill agreement.
Dues-paying members not only get additional worker protections, but you also get discounts on insurance, travel, wholesale clubs like Costco, healthcare services, professional services, and home and moving services.
This agreement governs voluntary moves and how vacant office space is filled at headquarters. This type of move is different from mandatory moves, which are governed by the generic move agreement.
This Order establishes the U.S. Environmental Protections Agency's policy, guidelines and requirements for the Phased Retirement Program. The main purpose of the program to enhance the mentoring and training of the employees who may be filling the positions or taking on the duties of more experienced retiring employees, including any learning activities that would allow for the transfer of knowledge and skills from one retiring employee to others.
A list of frequently asked questions (FAQ) and answers, some of which actually might be useful.
Fill out, sign, and send electronically when applying for or re-certifying telework